May 2022 Skin Horse Wallpaper
on
May 1, 2022
at
12:01 am
Shaenon: Now that Sweetheart and Unity are in space, I thought I'd do some optimistic midcentury-style space race art. This is vaguely influenced by Ward Kimball's animated space shorts for Disney television and by Soviet cosmonaut posters.
As usual, if you make a donation in any amount to the Skin Horse Tip Jar, or contribute any amount to our Patreon, we'll give you a link to this wallpaper, designed for two computer desktop sizes and cell phones. Patreon contributors will continue to receive new wallpaper for the length of their contribution.
As a bonus, you'll also receive this bonus May wallpaper from the archives, the first design I ever did: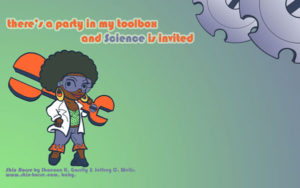 Channing: I get the sense that this is what Unity thought space would be, and I'm sad we disappointed her.